Hey wow! Chuck Schumer finally did something other than shove old people to the ground for standing in front of his camera! Way to ask
the simplest of simple dumb questions
, Chuck!
"One of you mentioned that you will use about $50 billion dollars a month. If that's the case, and you're certainly not going to use all $700 billion immediately, and as you can see there are a lot of questions about whether this will work, we understand you've done your best and you think this will work best, but it's clear we're in uncharted waters. But what about doing this in tranches? Why couldn't you ask us for $150 billion, and on January 15th or January 20th we would come back, we would assess how this worked and grant some more money if it's really working?"
And, hey, Paulsen refused to give any sort of reasonable answer.
I haven't really been talking about this because, frankly, I don't understand a word of it. I can't even balance my damned checking account because of too many impulse buys of Chocolate Funyons or whatever completely useless thing it is I'm wasting my money on. But this I understand. It's a simple enough idea: just tell us how the money is going to be spent. Open government. Accountability. Oversight. And they're refusing. One last goddamned time, they're refusing.
I read somewhere that, in the end, 700 billion clams works out to about $2300 for each of us, man woman and child. I don't know about you, but I haven't bought a new pair of jeans in about a year and a half. I'm wearing the same sample contact lenses I got at Lens Crafters because I can't afford to order a box just yet, because I'm still paying off other assorted bills and things. The bottom line: MY COOKIE JAR IS MOTHERFUCKING EMPTY, WALL STREET.
I think it would be different, I think my Class Consciousness Urban Trench Warfare thing would be dialed back down to "1" or "2" if we didn't live in New York City. If we didn't interact with these people all the time. New York is a unique place in that you can live in a shitty rat-infested walk-up in Harlem and have daily interactions with millionaires, billionaires even. Millionaires who are our age. And I mean without trying. We're all in essentially the same stew. Hell, being at that Yankee game, scoring some free tickets from dumb luck, being low enough to hang with the rich crowd, I said over and over to Jeremy, "It's a crime the way rich people live."
And, no it's not a crime. They earned it, we're told.
Anyway, you deal with these people all the time. You see them, you serve them. They eat in your restaurants, you send their faxes. You reserve their tickets for them. We know these people, and we know that most of them
are horrible
.
And, yes, there is jealousy involved, hanging out with bankers/lawyers that I've known here and seeing them prance around with watches that cost more than a year of my rent. Being in their fancy apartments, their huge impeccable lofts or expansive studio apartments overlooking the park. There is great money to be had.
So I have a hard goddamned time thinking that I should have anything to do with bailing these slick motherfuckers out of a jam. As far as I'm concerned, having that amount of money, going for it that aggressively, should maintain a certain level of risk and responsibility. Sorry, obscenely rich asshole, your taxes should go up. MASSIVELY. Because I'll be goddamned if I have to pay a single red cent more just because Bush deregulated and you went hogwild. I'll be goddamned.
These Chocolate Funyons aren't gonna pay for themselves, City Boy.
Anyway, and it's been said a jillion times already but I like joining the chorus: isn't it completely hysterical to see so many conservatives having honest debates about exactly how much of this billion dollar bailout is acceptable, when a national health care plan that costs a fraction of the bailout is MARX-FASCI-COMMU-CHE-STALIN-STREISAND horrible? Like, we can't spare a penny so your kids can go to the doctor but,
OH God you libtards don't understand that the CEO of Goldman Sachs has a standard of living to which he's grown accustomed and if he doesn't have gold flakes in his eggs in the morning he'll have a heart attack and die and you people will be THE MURDERERS AND WE WILL HUNT YOU and you will blame the one armed man and when the train derails you will run run run through the woods but Tommmy Lee Jones is on to you and "I didn't do it!" "I don't care" and then Batman Forever is fucking UNWATCHABLE.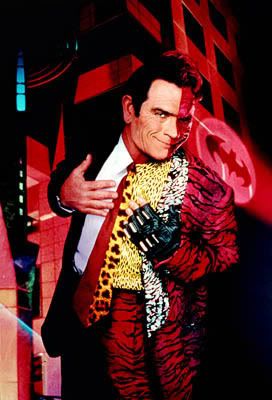 Above: There is no much a man can tell you, so much he can say
I feel like I got off track there slightly, but my point remains. And I'm not brainy about this sort of thing, but I've got common sense. There is simply no reason whatsoever that we should commit so much money without regulation or oversight at one time with no strings attached. None. And proposing a Biblically destructive bailout deal, and then countering with a different deal that's only Biblically terrible, is not the solution.
There is only one reason that the Bush administration, after a long history of doing so
in other areas
, is so hot and bothered over getting that money and getting it quickly with no strings attached and no oversight whatsoever. They've got one last fast one to pull on us on their way out. And, hell. They're essentially saying, "We don't want the Government interfering with these financial institutions." Which is a song we've heard before.
And, anyway ha ha ha hah it's
going to pass
no matter what we write on our little blogs. So thanks America, for that war we knew was wrong, that spying we knew was happening and was wrong, those weapons we knew weren't there, and that War on Terror we knew was a crock of shit. Centuries from now they'll find all of our correct assumptions on blogs all throughout the internet. We'll be like little Emily Dickinsons, but penniless and charred by The Nuclear War Over Jesus.